Katherine's Bio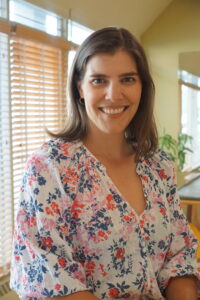 Katharine is thrilled to be teaching at the Fitness Table Calgary!
She brings with her nearly 25 years of experience as a Fitness Table participant or teacher. For 10 of those years, Katharine was the proud owner and head instructor at the Fitness Table Vancouver. She is also a classically trained actor and former competitive swimmer and coach.
Katharine has always followed her creative spirit, keen eye, and gifts for teaching. She has invested much of her life toward the art of teaching movement. Whether in the studio or on the pool deck, Katharine has inspired, trained, and supported people from all walks of life and ages, including former Olympians, 'weekend warriors', and people suffering with chronic pain and/or injuries.
Katharine's greatest goal is to help people realize their own potential and to break down barriers they never thought possible. She believes that people are capable of all they can dream of. She is grateful that people put their trust in her so she can be a part of the journey toward better health, greater strength, and more fulfilling lives.
When she is not at the studio you can find her making up stories in enchanted forests with her husband and daughter, climbing mountains, and swimming in any body of water she has access to!
She can't wait to see you on the Table!