Our unique posture & core strength method… on a table!
Background
In the 1920s, French physiotherapist Ferdinand Penchenat established the basis for The Fitness Table Method. Drawing on his understanding of movement and his expertise in physical rehabilitation, he designed a special table which still bears his name today.
His invention has resulted in a unique and innovative form of fitness training; with it's focus in building posture and core strength, it provides significant relief for back problems.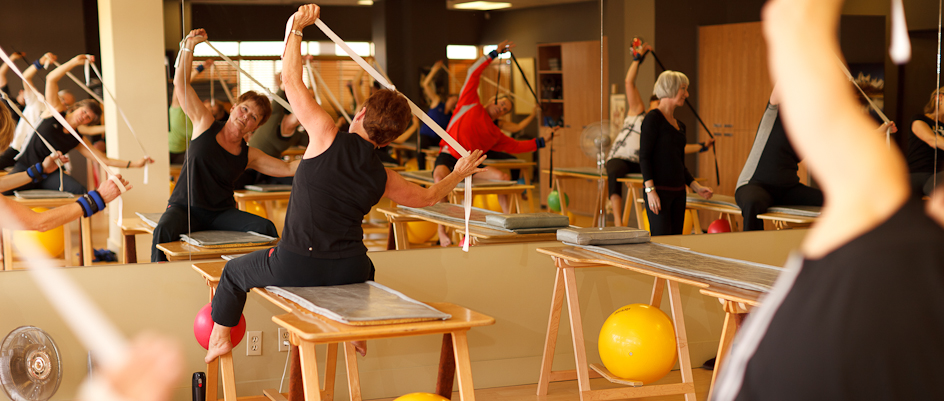 Characteristics
The Penchenat Table is distinctive in both its shape and its tilt feature. The table's unique design enables users to partially anchor themselves and displace their center of gravity in a manner that facilitates intensive work on the deep musculature. Unique in North America, The Fitness Table Method is particularly effective at isolating and working on specific muscle groups, thereby providing long-lasting reinforcement to the static musculature.
The Fitness Table method is different from all other forms of fitness training, in that it enables participants to work in exceptional positions that would not otherwise be possible, strengthening the antigravity muscles and providing significant relief for back problems.
Founder
Thérèse Cadrin-Petit, director of The Fitness Table TCP inc. in Montreal, is renowned for a lifetime devotion to the art of movement. Trained in Montreal at Aline Legris School of Dance, she joined Les Grands Ballets Canadiens after obtaining the Advanced Certificate at the Royal Academy of Dancing in London, England. Her professional career brought her to dance with the National Ballet of Canada and later with La Comedie Francaise in Paris, France. During that period she dedicated a great deal of her time to the study of anatomy, physiology, corrective gymnastics and movement reeducation.
After teaching six years in the Department of Education at the University of Montreal she was invited to teach at the National Theatre School of Canada, where she introduced The Fitness Table Method in 1980. She opened her Studio in 1985 to introduce this method to the general public, it has also been taught at The National Theatre School of Canada, The Ecole Superieure de Danse du Quebec, McGill Opera Co, and to several musicians of the Faculty of the University of Montreal.
---
"The Fitness Table plays an important role in our community from a therapeutic point of view.  People recovering from acute or chronic musculoskeletal injuries often have difficulty returning to recreational fitness, making it difficult to maintain an adequate level of flexibility and strength.  The Fitness Table offers a program of whole body strength and flexibility training focusing on the postural apparatus, an area almost completely lacking the traditional fitness approach.  (The) teachers pay particular attention to body alignment and technique and are able to design effective, individualized programs.  From a health and wellness point of view, I highly recommend the Fitness Table for anyone interested in injury prevention and wellness."
Mindy Levin, Pht., Ph.D.